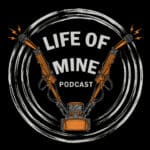 Don't miss out on the Life Of Mine merch sale, 30% off storewide for XMAS. Head to https://lifeofminepodcast.com/shop/ and load up while its bloody cheap.
Also if you want to hear the rough as guts episodes that are hidden away from the Public:
– Download the Podbean app
– Follow Life Of Mine
– Become a Patron and pledge $2.50 per month
– Hit Refresh in the app and the PATRON yarns will be at the top
In this mini episode, here are a few tips for the new to Mining GREENIES that you won't hear in inductions. These will help you navigate through your first Mining job. Feel free to contact me if you want any more info for your first Mining gig.