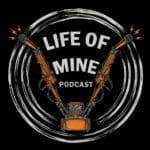 In this episode I interviewed a Geologist that is championing woman in the resources sector, Molly Stanistreet.
Now you may have seen Molly floating around Facebook recently after the Courier Mail wrote an article about her in the lead up to the Women in Mining and Resources Queensland (WIMARQ) Awards for Women in Resources. Though as a typical newspaper, the Courier Mail just honed in on this apparent boys culture in Mining, which Molly can't even really remember saying. So I thought I'd take the opportunity to interview Molly about her career in the Mining industry, what it has done for her and why she is in the running to take out this years WIMARQ resources award for woman.
Now Molly's career has been far from spoon fed, where as a graduated Geologist she packed up from the comforts of family and friends in QLD and headed solo to where else but Kalgoorlie to commence her career in the Mining industry. It's a great story and after working with her previously, I can vouch that she brings an amazing family vibe to whatever mine site she works on. She is a very valuable asset not just as a Geologist, but as a great person that lifts the morale of everyone around her. Best of luck with the WIMARQ award Molly.