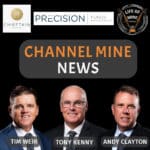 This episode of Channel Mine News is sponsored by Precision Funds Management. Check them out at https://www.precisionfm.com.au/
Welcome to another week of Channel Mine News and as per usual, we are joined by Tony Kenny, Tim Weir and Andy Clayton from Precision Funds Management. The lads have once again delivered some great insight into the hot topics within the Mining Investment scene.
Spread the word about Channel Mine News as it is rapidly becoming the nations go to source for Mining Investment News (in true Life Of Mine style).
Topics discussed:
– Pilbara Minerals and BHP massive results
– Strike Energy developing Walyering gas field  
– Takeover tug of war for MACA 
– SRG secures Sydney Tower contract
– Austin Engineering buy Mainetec bucket company 
– Cobre and Magmatic Resources Copper bolters
– Punter questions from Ride the Wave Investing group