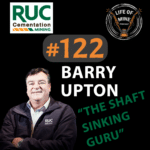 Buy all your Life Of Mine Merch here ► https://lifeofminepodcast.com/shop/
Thanks to Shane McLeay and the crew at Entech for making the Legends series possible. Check them out at http://entechmining.com.au/ for all your Resource Geology, Mining Engineering, Geotechnical and Ventilation needs. Entech are global leaders in the Mining Consultancy game and are proud partners with Life Of Mine.
Barry Upton is the Managing Director at RUC Cementation Mining Contractors. From his early 20s, he has held several Managerial positions and has gained an extremely diversified range of Mining experience. This is one of the most captivating Mining chats that you will ever hear. Shaft sinking on Hong Kong Island, handshake contracts at Freeport, freezing Canadian ground for Shafts are just a few of the interesting things we discussed. An absolute legend of Mining and even more of a great bloke to go with it.
The full video episode is also available on Youtube at https://youtu.be/a-xjp8_wRl4