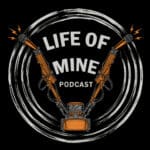 Welcome to the 3rd episode of the ENTECH LEGENDS series, proudly bought to you by the crew at Entech. If you are looking for an International Mining Consultant specialist, check them out at www.entechmining.com.au for all of your Resource Geology, Mining Engineering, Geotechnical and Ventilation needs.
Bryan Worthington, what an absolute bloody legend. In his 20's, Bryan was the sole Rise Miner at Mt Charlotte in Kalgoorlie. He then had plenty of years working in and around WA Airlegging, Jumbo Operating and Managing and then spearheaded the setup of Byrnecut's first ever offshore contract at Bulyanhulu in Tanzania. This is an unbelievable yarn where you'll hear about:
– How Bryan blew himself up in Rise
– The cunning trick behind how he always made his son Boof lay the rails when they were Airlegging
– Why a 7 foot Maasai piggy backed his mother on a 800km trip just because she wanted to meet Bryan in Tanzania.
and plenty plenty more.