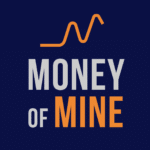 Welcome to the first ever global Podcast interview from inside an OPEN PIT (we're claiming the first).
The Money of Mine crew had the pleasure of recording this episode in the historic Great Fingal Pit, close to the town of Cue. Would you believe this trip was Trav's first venture underground?
We got to speak with some real mining people while out there – recordings filmed underground which we look forward to sharing in due course. This recording summarises some of our takeaways from the trip chatting with Westgold's MD, Wayne Bramwell and various site leaders there at Cue.
It's a bit of a different episode to usual but we hope the Money Miners enjoy the uniqueness nonetheless.
All Money of Mine episodes are for informational purposes only and may contain forward-looking statements that may not eventuate. The co-hosts are not financial advisers and any views expressed are their opinion only. Please do your own research before making any investment decision or alternatively seek advice from a registered financial professional.
Thank you to our Podcast Partners:
Terra Capital – Specialist Investment manager in the natural resources sector
Anytime Exploration Services – Exploration workers, equipment, core cutting/storage + much more
JP Search – Recruitment specialists for the financial world
K-Drill – Safe, reliable, and productive surface RC drilling
SMEC Power & Technology – Electrical specialists for the mining industry
Join our exclusive Facebook Group for the Money Miners and request access to the Hooteroo chat group.
Subscribe to our weekly newsletter HOOTEROO HERALD
Follow Money of Mine on YouTube
Follow Money of Mine on Twitter
Follow Money of Mine on LinkedIn
Follow Money of Mine on Instagram
Timestamps:
(0:00) Preview
(0:54) Intro
(4:54) Kicking off Great Fingal
(6:34) Westgold M&A
(8:45) Recruitment and culture in today's Mining industry
(10:33) Power innovations
(13:32) Wayne Bramwell's questions back at us
(18:47) The buck stops with the General Manager
(27:13) The "herder of cats" – life of an Underground Manager
(36:44) The "hirer and firer" – life of HR
(49:07) Trav's takeaway's from the trip