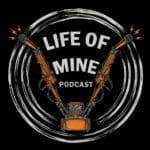 *** Sign up for online JUMBO TRAINING at https://lifeofminepodcast.com/members-podcasts/ ***
Now my Aussie Underground Miners counterpart Scott Gorfin joined me for a few schooners to interview an absolute machine of a bloke that is really having a crack in the space of Mining E-Commerce and a gut load of other stuff, Jake Harris.
Shakey Jakey is the founder of the Nipper Store, the go to online shop for everything Underground Mining. You can get ya tool bags, cap lamps, socks, self rescuer pouches, work torches, toiletries and there's also plenty of t-shirts, hats and stickers with the great nipper store logo on it. He's started it from scratch and its going absolute gang busters. He's even making Laser covers to service the Jumbo industry (my type of guy).
He's also got another venture going (I'm getting worn out just from thinking about all the work he does). SAFETY SILO is an online database that will be used to collate Mining Incidents and allow everyone to access the learnings and key findings from them, even if they are not within your Company. Check out all the links below:
Websites
Facebook
https://www.facebook.com/nipperstore
LinkedIn
https://www.linkedin.com/company/the-nipper-store/
Instagram
https://www.instagram.com/nipperstore_au/
*********************************
Buy all your Life Of Mine Merch here
Make sure you subscribe to Life Of Mine wherever you get your Podcasts (links below):