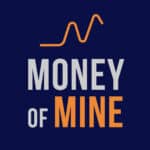 Westgold bow out of the battle for Musgrave and Wayne comes on the show to answer the questions from the Money Miners. We speculate on what might be next for them in their M&A endeavors. Gascoyne has changed its name and we wonder why Red 5's share price tanks on good news. Wyloo finally get their hands on Mincor and Bellevue comes out with a tolling agreement with Genesis before production really kicks off.
All Money of Mine episodes are for informational purposes only and may contain forward-looking statements that may not eventuate. The co-hosts are not financial advisers and any views expressed are their opinion only. Please do your own research before making any investment decision or alternatively seek advice from a registered financial professional.
Join our exclusive Facebook Group for the Money Miners and request access to the Hooteroo chat group.
Follow Money of Mine on YouTube
Follow Money of Mine on Twitter
Follow Money of Mine on LinkedIn
Follow Money of Mine on Instagram