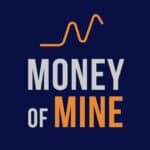 Our discussion today covered Ramelius' takeover bid for Breaker Resources, Talga receiving environmental approvals in Sweden, speculation on Arafura's offtake agreement, and the challenging resource project funding environment.
0:00 – Intro
2:04 – Ramelius (ASX:RMS) creeps higher on Breaker (ASX:BRB)
7:42 – Talga (ASX:TLG) receives environmental approvals in Sweden
13:19 – Speculation on Arafura's (ASX:ARU) offtake agreement
22:10 – Challenging environment for funding new resource projects
27:50 – Other daily headlines in 30 seconds
All Money of Mine episodes are for informational purposes only and may contain forward-looking statements that may not eventuate. Please do your own research before making any investment decision or alternatively seek advice from a registered financial professional.
Follow Money of mine on Youtube
Follow Money of mine on Twitter
Follow Money of mine on LinkedIn