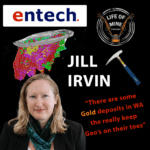 The much awaited Geology spectacular is here for the Life of Miners. Jill Irvin, Principal Geologist at Entech joins Life of Mine to get right into the crux of Geology. We had a great chat about:
Some of the challenging Geology deposits in WA
What Jill deems appropriate spacings for inferred, indicated and measured resource classifications
Ins and outs of Resource reporting (especially when there are Performance Rights attached to it)
How best to attack defining an orebody with the highest level of confidence
Thanks as always to our great friends at Entech for supporting Life Of Mine. Get in touch with them via their website and also give them a follow LinkedIn.
***DISCLAIMER***
All Life Of Mine episodes are for information only and may contain forward looking statements that may not eventuate. Please do your own research before making any investment decision or alternatively seek advice from a registered financial professional.
**************************************
Sign up for online JUMBO TRAINING at https://lifeofminepodcast.com/members-podcasts/
Buy all your Life Of Mine Merch at https://lifeofminepodcast.com/shop/
Make sure you subscribe to Life Of Mine wherever you get your Podcasts (links below):