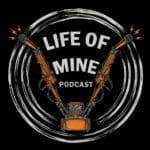 The "Gold Series" is the new hot get together within the Aussie Gold industry. This event has been curated by White Noise Communications and Caldera House and in this chat we get to hear from the two head honchos themselves, Amalie Schreurs and Gigi Penna.
The first 2 events are in Melbourne and Sydney (21st + 23rd June), with a 3rd event planned for Perth in July. Considering gold prices are at an all-time highs with corporate activity increasing, Amalie and Gigi believe now is the time to unlock value within WA's gold sector.
Kristie Batten from Mining News will be hosting a Fireside Chat and I (Matty) will also be conducting a Footy Show style "Roving Mic" so brace yourselves if you are attending the event.
Check out White Noise Communications and Caldera House if you're looking for some gun investor relations teams in the Mining Industry.
White Noise Communications – https://whitenoisecomms.com/
Caldera House – https://www.calderahouse.com.au/
*********************************
*** Sign up for online JUMBO TRAINING at https://lifeofminepodcast.com/members-podcasts/ ***
Buy all your Life Of Mine Merch at https://lifeofminepodcast.com/shop/
Make sure you subscribe to Life Of Mine wherever you get your Podcasts (links below):