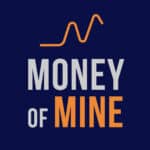 What a fascinating and unexpected show we have for you today. Westgold (WGX.asx) launched an off-market takeover offer for Musgrave (MGV.asx) this morning. We unpack the deal and then get Wayne Bramwell himself (MD of Westgold and friend of the show) on the show to talk us through the important aspects.
There's a bit to unpack here. There's the strategy. The price. The potential for interlopers to get involved. The market's reaction to the whole thing. It's a long episode but it's worth tuning into, trust us.
All Money of Mine episodes are for informational purposes only and may contain forward-looking statements that may not eventuate. Please do your own research before making any investment decision or alternatively seek advice from a registered financial professional.
Follow Money of mine on YouTube
Follow Money of mine on Twitter
Follow Money of mine on LinkedIn
Follow Money of mine on Instagram