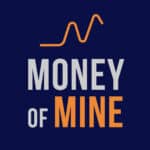 Another action-packed episode from all around the country!
We warm up with announcements we noticed from AngloGold Ashanti (AGG.asx – soon to be delisted), BCI Minerals (BCI.asx), and Challenger Gold (CEL.asx).
Vulcan's (VUL.asx) deal with NYSE-listed SLB gets discussed before we head to the Cobar for an update on what's going on corporately at both Polymetals (POL.asx) and Kingston (KSN.asx).
Our story of the day takes us to "Tin Barron" land, via Tanami Gold (believe it or not). Metals X (MLX.asx), ASX's sole pure-play tin producer, is our main top of the discussion and we're particularly intrigued by their changing ownership structure as well as their corporate strategy.
All Money of Mine episodes are for informational purposes only and may contain forward-looking statements that may not eventuate. The co-hosts are not financial advisers and any views expressed are their opinion only. Please do your own research before making any investment decision or alternatively seek advice from a registered financial professional.
Join our exclusive Facebook Group for the Money Miners and request access to the Hooteroo chat group.
Follow Money of Mine on YouTube
Follow Money of Mine on Twitter
Follow Money of Mine on LinkedIn
Follow Money of Mine on Instagram
Chapters:
(0:00) Preview
(0:33) Intro
(4:08) AngloGold Ashanti make renewable investment
(6:57) BCI agrees on offtake with Itochu
(7:30) Challenger Gold director buying
(8:50) Vulcan's deal with SLB
(11:29) Polymetals pre-payment & capital raise
(14:36) Kingston out of trading halt
(17:09) Metals X & Tin Market Deep Dive
(47:25) Outro