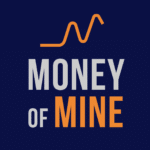 We kept today's show "crisp" just for JD's liking today. Also we spent 2 hours this morning chatting with Joe Lowry in a recording which he will put up on his Global Lithium podcast in the coming days.
But once we turned our heads to the stock news of the day, we found ourselves reading the quarterlies from Capricorn Metals (CMM), VHM Limited (VHM), West African Resources (WAF) and Adriatic Metals (ADT). The latter was worthy of a deeper unpack as first production is pushed back slightly.
Aurelia (AMI) received its Mining License for its Federation Project. Lotus' (LOT) merger with A-Cap Energy got approved by shareholder vote. There's a lot happening with maligned lithium developer, AVZ Minerals (AVZ), but we'll save that for another time. And we nearly forgot the graphite market mayhem with China's "export ban" causing stock price volatility today in names such as Syrah (SYR).
All Money of Mine episodes are for informational purposes only and may contain forward-looking statements that may not eventuate. The co-hosts are not financial advisers and any views expressed are their opinion only. Please do your own research before making any investment decision or alternatively seek advice from a registered financial professional.
Thank you to our Podcast Partners:
Terra Capital – Specialist Investment manager in the natural resources sector
Anytime Exploration Services – Exploration workers, equipment, core cutting/storage + much more
JP Search – Recruitment specialists for the financial world
K-Drill – Safe, reliable, and productive surface RC drilling
SMEC Power & Technology – Electrical specialists for the mining industry
Join our exclusive Facebook Group for the Money Miners and request access to the Hooteroo chat group.
Subscribe to our weekly newsletter HOOTEROO HERALD
Follow Money of Mine on YouTube
Follow Money of Mine on Twitter
Follow Money of Mine on LinkedIn
Follow Money of Mine on Instagram
Timestamps:
(0:00) Preview
(0:44) Intro
(3:55) We will be in Sydney next week
(7:07) Quarterlies: Capricorn (CMM)
(8:50) Quarterlies: VHM Limited (VHM)
(9:05) Quarterlies: West African (WAF)
(11:19) Adriatic's (ADT) Production Delay
(16:23) Mining Licence for Aurelia's (AMI) Federation
(20:36) Lotus' (LOT) Merger with A-Cap (ACB) Approved
(21:35) AVZ deep-dive prelude
(23:06) Graphite Market Mayhem and Syrah (SYR) Short Squeeze