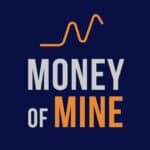 Today we venture into the Uranium world!
It's territory we haven't gotten too deep into before but with spot uranium breaking into local highs and some pro-nuclear policy changes happening around the globe, we think it's about time we do a deep dive on the sector.
We take a look at the market dynamics at play and what it all means for the ASX Uranium stocks, namely, Paladin (PDN.asx), Boss Energy (BOE.asx), Lotus (LOT.asx), Peninsula (PEN.asx) and Bannerman (BMN.asx).
We welcome the Uranium experts to come on a subsequent show and elaborate on the market dynamics at play that aren't so apparent to the naked eye.
All Money of Mine episodes are for informational purposes only and may contain forward-looking statements that may not eventuate. The co-hosts are not financial advisers and any views expressed are their opinion only. Please do your own research before making any investment decision or alternatively seek advice from a registered financial professional.
Join our exclusive Facebook Group for the Money Miners and request access to the Hooteroo chat group.
Follow Money of Mine on YouTube
Follow Money of Mine on Twitter
Follow Money of Mine on LinkedIn
Follow Money of Mine on Instagram
Chapters:
(0:00) Preview
(0:36) Introduction
(3:49) Sweden's Nuclear Policy Change
(8:04) What Other Countries Are Doing Globally
(14:18) Australia's Stance On Nuclear
(15:59) Uranium Supply and Demand Dynamics
(22:33) Bulls and Bears in the Uranium Market
(27:53) ASX Uranium Stocks
(36:02) Wrap-Up