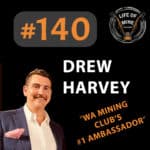 Drew Harvey is the Business Development for Odell Resources.
Drew originally started out as a Underground Miner but has now transitioned into the world of Business Development. We had a great laid-back chat about both Drew's underground career and his new ventures in the world of wheeling and dealing. 
The big question still remains….DO YOU LEAD OUT WITH THE BUSINESS CARD? 
Drew is a regular guest at the WA Mining Club, make sure you say G'day when you see him.
You'd be mad if you didn't connect with Drew on Linkedin at https://www.linkedin.com/in/drew-harvey-34941390/ and also check out the Odell Resources website at https://odellresources.com.au/about-us/