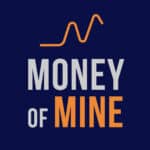 Today we had the opportunity to delve into the current state of commodity markets with Terra Capital portfolio manager Mathew Langsford.
Our discussion covered plenty of ground from the valuation differentials between the ASX and TSX, where Terra is seeing value, what it will take to turn the buy over build mindset plus how running a natural resource focused fund compares with 10 years ago.
We had a great time speaking with Matt and hope the Money Miners enjoy the chat!
All Money of Mine episodes are for informational purposes only and may contain forward-looking statements that may not eventuate. The co-hosts are not financial advisers and any views expressed are their opinion only. Please do your own research before making any investment decision or alternatively seek advice from a registered financial professional.
Join our exclusive Facebook Group for the Money Miners and request access to the Hooteroo chat group.
Follow Money of Mine on YouTube
Follow Money of Mine on Twitter
Follow Money of Mine on LinkedIn
Follow Money of Mine on Instagram