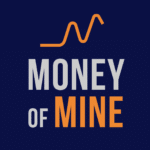 As we recover from Diggers, we dive back into the daily news rhythm. And today we cover some interesting territory. We kick things off in Matty's favourite part of the country, Cobar. He asks Trav what "surety" means in the context of Polymetals' (POL.ax) Environmental Bond. Sheffield (SFX.ax) commence commissioning at their Thunderbird Mineral Sands Project. Trav tries his hand at some shareholder activism once again – this time it's Gascoyne (GCY.ax). Auteco (AUT.ax) are in halt and Matty tries to guess what they could be buying. And Azure Minerals (AZS.ax) are also in halt as they respond to the media speculation of corporate interest from SQM.
All Money of Mine episodes are for informational purposes only and may contain forward-looking statements that may not eventuate. The co-hosts are not financial advisers and any views expressed are their opinion only. Please do your own research before making any investment decision or alternatively seek advice from a registered financial professional.
Thank you to our Podcast Partners:
Terra Capital – Specialist Investment manager in the natural resources sector
Anytime Exploration Services – Exploration workers, equipment, core cutting/storage plus much more
JP Search – Recruitment specialists for the financial world
K-Drill – Safe, reliable, and productive surface RC drilling
Join our exclusive Facebook Group for the Money Miners and request access to the Hooteroo chat group.
Subscribe to our weekly newsletter HOOTEROO HERALD
Follow Money of Mine on YouTube
Follow Money of Mine on Twitter
Follow Money of Mine on LinkedIn
Follow Money of Mine on Instagram
(0:00) Preview
(0:49) Introduction and Corrections
(5:07) Polymetals (POL) Environmental Bond Surety
(8:33) Sheffield (SFX) Commence Commissioning For Thunderbird
(11:49) Gascoyne (GCY) Royalty Dilemma – Activism Begins
(27:35) Auteco (AUT) in Halt, Buying Something?
(31:19) Azure Responds to Media Speculation