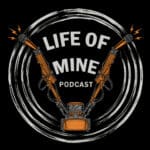 Tim Weir from Precision Funds Management gives the listeners another detailed run down of the macro-economic climate that is driving the share market volatility.
In our previous Channel Mine News episode, Tim Weir predicted that the rally occurring at the time was only leading towards further downside. HE WAS CORRECT. 
Is the currently rally we are going through heading in the same direction?
Thanks as always to our great sponsors at Entech Mining. Check out the number 1 global Mining Consultant at http://entechmining.com.au/
Also, give them a follow on LinkedIn at https://www.linkedin.com/company/entech-pty-ltd/