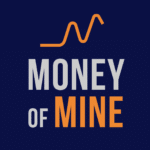 Money of Mine's first episode from the new office!
There was plenty for us to digest this morning, starting off with the Firefinch EGM where we made an appearance at. Ramelius (RMS) also gets a mention for going unconditional in their takeover of Musgrave (MGV).
WA1 released further assays, though the market seems to be pre-occupied with how the metallurgical results will shape up whilst Anitpa (AZY) and Black Cat (BC8) both had their hands out in dilutive capital raises.
Sayona's (SYA) MD left his post at the company which we had to discuss and Bowen Coking Coal (BCB) released a strategic review and update, which the market has looked upon to kindly.
Iron ore giant Fortescue (FMG) announced another executive departure, their 10th in about 3 years, with CEO Fiona Hick leaving the business. We closed out the show with a chat about Gold Road (GOR) and what their future could look like.
All Money of Mine episodes are for informational purposes only and may contain forward-looking statements that may not eventuate. The co-hosts are not financial advisers and any views expressed are their opinion only. Please do your own research before making any investment decision or alternatively seek advice from a registered financial professional.
Thank you to our Podcast Partners:
Terra Capital – Specialist Investment manager in the natural resources sector
Anytime Exploration Services – Exploration workers, equipment, core cutting/storage + much more
JP Search – Recruitment specialists for the financial world
K-Drill – Safe, reliable, and productive surface RC drilling
Topdrill – Drilling into the future
Join our exclusive Facebook Group for the Money Miners and request access to the Hooteroo chat group.
Subscribe to our weekly newsletter HOOTEROO HERALD
Follow Money of Mine on YouTube
Follow Money of Mine on Twitter
Follow Money of Mine on LinkedIn
Follow Money of Mine on Instagram
(0:00) Preview
(1:09) Intro
(3:56) Firefinch 249D meeting
(12:16) Ramelius go unconditional on MGV
(15:26) WA1 release further assays
(20:14) Antipa & Black Cat launch capital raises
(25:00) Sayona MD leaves
(28:47) Bowen Coking Coal Strategic Review
(32:59) Fortescue CEO Fiona Hick leaves
(37:05) Gold Road post up half-yearly results