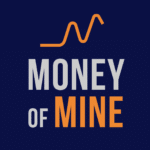 Today we sat down for a cracking chat with natural resource fund manager David Franklyn to drill into how he's seeing the world.
We went deep into the current commodities set up from a macro economic point of view, how the landscape of commodity producing & processing countries will change in the coming years plus plenty of different companies that many of the Money Miners will be familiar with.
We hope you enjoy the yarn as much as we did!
All Money of Mine episodes are for informational purposes only and may contain forward-looking statements that may not eventuate. The co-hosts are not financial advisers and any views expressed are their opinion only. Please do your own research before making any investment decision or alternatively seek advice from a registered financial professional.
Thank you to our Podcast Partners:
Terra Capital – Specialist Investment manager in the natural resources sector
Anytime Exploration Services – Exploration workers, equipment, core cutting/storage + much more
JP Search – Recruitment specialists for the financial world
K-Drill – Safe, reliable, and productive surface RC drilling
SMEC Power & Technology – Electrical specialists for the mining industry
Join our exclusive Facebook Group for the Money Miners and request access to the Hooteroo chat group.
Subscribe to our weekly newsletter HOOTEROO HERALD
Follow Money of Mine on YouTube
Follow Money of Mine on Twitter
Follow Money of Mine on LinkedIn
Follow Money of Mine on Instagram
Timestamps:
(0:00) Preview
(0:40) Intro
(3:55) Intro to Dave Franklyn
(5:58) Explaining that picture
(7:02) How to juggle today's macro set up
(10:33) Being high conviction
(15:55) Commodity producing countries versus processing countries
(19:05) What to make of consensus company price outlooks
(23:00) Metals Acquisition Co. – the SPAC
(25:37) How's lithium looking (PLS, MIN, GL1)
(32:43) Teck's future in the balance
(34:33) How will uranium play out?
(38:43) De Grey's DFS + GOR's future plans
(46:10) AuTECO 2.0 – Green Bay play
(52:19) How will Mr Beament grow Develop?
(56:42) The ongoing WA lithium consolidation (Gina-Ellison get-together)
(1:00:09) Learning from investment misses
(1:04:20) Under-rated vs Over-rated!