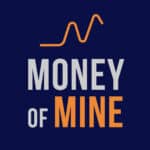 In this episode of Money of Mine, we had the great pleasure of interviewing Allan Trench. Allan was kind enough to give us a shout-out in his latest Strictly Boardroom column, which he has written along with John Sykes for nearly 2 decades.
The article, titled "Five Rules of Resources Sector Investing" is the premise of our discussion today, from which we expand upon Allan's extensive expertise as well as many great stories & anecdotes. Throughout his career Allan has held key roles in notable mining and resources companies, contributing to the exploration and management of nickel, gold, and base metal projects. Currently serving as the MBA Director and Professor of Practice at UWA Business School, Allan is highly regarded in the industry. Additionally, he holds a research position at the Centre for Exploration Targeting, University of Western Australia. We hope you enjoy the chat!
Article link: https://www.miningnews.net/strictly-boardroom/opinion/1454671/five-rules-of-resources-sector-investing
All Money of Mine episodes are for informational purposes only and may contain forward-looking statements that may not eventuate. The co-hosts are not financial advisers and any views expressed are their opinion only. Please do your own research before making any investment decision or alternatively seek advice from a registered financial professional.
Join our exclusive Facebook Group for the Money Miners and request access to the Hooteroo chat group.
Follow Money of Mine on YouTube
Follow Money of Mine on Twitter
Follow Money of Mine on LinkedIn
Follow Money of Mine on Instagram
Chapters:
(0:00) Preview
(0:55) Pre-interview introduction
(9:10) Rule #1 – Does the company value pass the smell test?
(18:55) Rule #2 – If you listen to the MD for five minutes then….
(22:52) Rule #3 – Avoid being either too smart or too dumb
(30:42) Rule #4 – Don't try to catch a falling knife
(43:10) Rule #5 – Dividends are good too (as are conservative balance sheets)