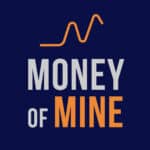 Money of Mine has delivered another great interview for the Money Miners today with none other than Pilbara Minerals CEO Dale Henderson.
We visited the Pilgangoora operations and got the chance to sit down with the boss and grill him on how they'll spending their big pile of cash, building an enduring business and his take on how hard it will be for competitors to bring lithium production online.
We also ran through Trav's Top Tweets, with as always, some hilarious content.
Next week we'll be at Diggers and Dealers in Kalgoorlie, so if you're around town, come to De Bernales where we'll be set up and tell us what you're hearing on the decline!
All Money of Mine episodes are for informational purposes only and may contain forward-looking statements that may not eventuate. The co-hosts are not financial advisers and any views expressed are their opinion only. Please do your own research before making any investment decision or alternatively seek advice from a registered financial professional.
Thank you to our Podcast Partners:
Terra Capital – Specialist Investment manager in the natural resources sector
Anytime Exploration Services – Exploration workers, equipment, core cutting/storage plus much more
JP Search – Recruitment specialists for the financial world
Join our exclusive Facebook Group for the Money Miners and request access to the Hooteroo chat group.
Subscribe to our weekly newsletter HOOTEROO HERALD
Follow Money of Mine on YouTube
Follow Money of Mine on Twitter
Follow Money of Mine on LinkedIn
Follow Money of Mine on Instagram
Chapters:
(0:00) Preview
(0:24) Intro
(3:11) Our Thoughts on Pilbara Minerals site Pilgangoora
(8:43) Interview with Pilbara Minerals CEO Dale Henderson
(21:20) Trav's Top Tweets