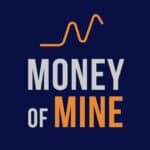 We've got another fundie interview for the Money Miners today. We had the pleasure of speaking with Karim Nasr, CEO of La Mancha Resource Capital LLP. He was joined by Technical Director, Graham Crew, who is a fellow Money Miner himself. We cover a lot of territory about this giant fund in the industry that most people in Australia don't know much about at all.
All Money of Mine episodes are for informational purposes only and may contain forward-looking statements that may not eventuate. The co-hosts are not financial advisers and any views expressed are their opinion only. Please do your own research before making any investment decision or alternatively seek advice from a registered financial professional.
Join our exclusive Facebook Group for the Money Miners and request access to the Hooteroo chat group.
Sign up for our new Weekly Newsletter.
Follow Money of Mine on YouTube
Follow Money of Mine on Twitter
Follow Money of Mine on LinkedIn
Follow Money of Mine on Instagram