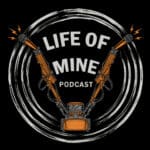 Special announcement exclusively bought to you by Life Of Mine, the WA hard border is coming down 3 March.
Special shout out to all these folk (but not limited to):
– Workers that have stayed in WA for months/years and not seen their kids and loved ones.
– Interstate parents that haven't seen their kids or grandchildren (like my mum Janey)
– Managers and workers that have tirelessly gone with the Covid flow, moved workers around state to state and constantly adapted to keep mine sites running.
– And everyone fuckin else
You should've accepted my interview proposal McGowan, I woulda made you sound awesome.