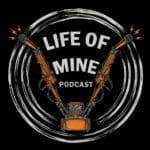 Welcome to Part 2 of the Stress and Seismicity episode with Tom Parrott, Principal Geotechnical Engineer at Entech. In Part 2 we cover:
Block Caves and Sub-level Caves continued.
Why did Argyle have so much ground convergence?
What controls stress better, Sub-level Cave or Block Cave?
Using the Kambalda North mine as an example, can you predict stress for new developments in virgin ground?
How do you measure the principal stress directions for any underground mine?
Ideal mining sequence to control stress.
Consequences of skipping a level and starting a 2nd mining front to make budget.
Shotcrete and mesh combinations for high stress areas.
Make sure you listen to Part 1 first, where we covered:
What are the differences between stress, seismicity, and convergence?
What ground conditions and types induce high seismicity.
How can mines in South Africa go to 4,000m deep where Australian mines struggle to reach 2,000m?
Why is the Kambalda region a known Seismic area?
Block Cave vs Sub-level Cave stresses (where they are and why are they there?)
Meshing of development faces, should it be across the board or only in high stress areas?
Give Tom Parrott and Entech both a follow on LinkedIn
Ground Support episode – https://youtu.be/-uB_w1hNgrM
****************************************
Buy all your Life Of Mine Merch here
Life Of Mine LINKS
Follow on LinkedIn
Follow on Twitter
Subscribe on Youtube
Follow on Facebook
Follow on Instagram
Follow on TikTok
Make sure you subscribe to Life Of Mine wherever you get your Podcasts (links below):