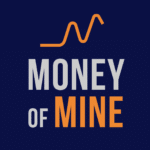 A few weeks ago we had the privilege of sitting down with Russell Delroy of Cottesloe-based Nero Resource Fund. Nero's performance is stellar. But you don't need us to tell you to pay attention when Rusty speaks.
In this conversation, we talked about one of the biggest issues plaguing our industry – to the detriment of shareholders. That issue is "misalignments" as described by Rusty between management/boards and shareholders. This conversation is riveting as Rusty reveals stories over his journey and some of the "soft issues" that can get in the way of shareholder returns.
All Money of Mine episodes are for informational purposes only and may contain forward-looking statements that may not eventuate. The co-hosts are not financial advisers and any views expressed are their opinion only. Please do your own research before making any investment decision or alternatively seek advice from a registered financial professional.
Thank you to our Podcast Partners:
Terra Capital – Specialist Investment manager in the natural resources sector
Anytime Exploration Services – Exploration workers, equipment, core cutting/storage + much more
JP Search – Recruitment specialists for the financial world
K-Drill – Safe, reliable, and productive surface RC drilling
SMEC Power & Technology – Electrical specialists for the mining industry
Join our exclusive Facebook Group for the Money Miners and request access to the Hooteroo chat group.
Subscribe to our weekly newsletter HOOTEROO HERALD
Follow Money of Mine on YouTube
Follow Money of Mine on Twitter
Follow Money of Mine on LinkedIn
Follow Money of Mine on Instagram
Chapters:
(0:00) Preview
(0:59) Introduction
(3:41) We sit down with Rusty
(7:00) The brief journey of Nero
(12:43) "Perception" in this Industry
(15:09) Abyssinian Metals 249D Update
(14:44) (Mis)alignment and Incentives
(25:04) Playing an Active Role as an Investor
(28:24) What About the Fiduciary Duty of Directors?
(34:42) Odds stacked against you in Section 249Ds
(43:04) The Involvement of Proxy Whisperers
(44:15) Why this Industry?
(46:10) Rusty calls the problem
(47:24) Active example with a PE group
(49:36) Institutional and Retail Investors Exposed
(52:03) What are the Solutions?
(1:02:46) Free Speech and Activism
(1:07:43) Wrap-up