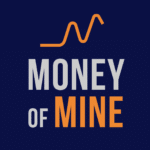 Russell "Rusty" Delroy of Nero Resource Fund returns to chat with us and today he's got an intriguing topic he wants to put under the spotlight. Mining companies are focused on costs and production, the "controllables". Rusty is here to advocate an alternative value-lever for mining companies that doesn't get taken very seriously by industry participants at the moment: higher prices for metals production based on the manner and location in which it is produced. Call it bifurcation or a "green premium". There is an intriguing confluence of circumstances pointing in this direction, but can the industry adapt? Mining companies (and their investors) sure do have an incentive to be advocating for it.
We have split this recording into two parts. This is the first, recorded in Trowbridge Gallery in Claremont.
All Money of Mine episodes are for informational purposes only and may contain forward-looking statements that may not eventuate. The co-hosts are not financial advisers and any views expressed are their opinion only. Please do your own research before making any investment decision or alternatively seek advice from a registered financial professional.
Thank you to our Podcast Partners:
Terra Capital – Specialist Investment manager in the natural resources sector
Anytime Exploration Services – Exploration workers, equipment, core cutting/storage + much more
JP Search – Recruitment specialists for the financial world
K-Drill – Safe, reliable, and productive surface RC drilling
SMEC Power & Technology – Electrical specialists for the mining industry
Join our exclusive Facebook Group for the Money Miners and request access to the Hooteroo chat group.
Subscribe to our weekly newsletter HOOTEROO HERALD
Follow Money of Mine on YouTube
Follow Money of Mine on Twitter
Follow Money of Mine on LinkedIn
Follow Money of Mine on Instagram
Chapters:
(0:00) Preview
(0:28) Intro
(4:03) Rusty Returns to Money of Mine
(6:09) Metal Market Bifurcation as a Topic
(11:19) Miners focus on Costs & Production not Revenue
(15:37) Vested interests in the equation
(20:00) China Dependence in Materials Processing
(26:48) The Realities of the EV Supply Chain
(33:37) China's Strategy Secured Materials Mucha Earlier