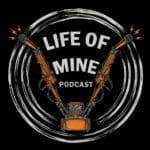 Barry Upton has come on for a round 2 yarn to chat about life in retirement. Baz held senior management positions all the way through his Mining career and set himself up for what you'd call an "early retirement", finishing up as MD of RUC Cementation & Mining in 2021-22.
We reflect on each facet of Baz's career:
Technical expertise
Management and Leadership
Husband
Father
Baz is a very highly respected Mining professional and I would encourage any young folk to give this episode a listen. Baz gives away plenty of wisdom that is relevant to anyone aspiring to become an industry leader.
Buy all your Life Of Mine Merch here
Life Of Mine LINKS
Follow on LinkedIn
Follow on Twitter
Subscribe on Youtube
Follow on Facebook
Follow on Instagram
Make sure you subscribe to Life Of Mine wherever you get your Podcasts (links below):