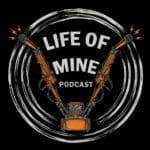 In this episode I chat with Nic Earner, Managing Director at Alkane Resources (ASX:ALK). Thanks to Lucas Robinson and the crew at Corporate Storytime for teeing this yarn up.
ALK are an interesting story. Their flagship Gold producing asset is Tomingley, which is located near Dubbo in NSW.  Tomingley pumped out 73,000 ounces of gold in FY22 at an AISC of A$1300/oz. On the exploration front, they've got the Northern Molong Porphyry Project which is 35km east of Dubbo, and its about 130km north of the massive Newcrest porphyr copper gold operation of Cadia. This hosts the Boda and Kaiser deposits which contain a Resource of 15moz gold equivalent (with a lot of ground to further explore). ALK are looking to prove up a similar style deposit to Cadia Valley.
Nic takes us through a bit about his career but more so an in-depth yarn about the history of Alkane and where they are heading. Nic is an absolutely cracking bloke and it was a very insightful chat about a Gold Producer and explorer from my favourite neck of the woods in NSW.
**Check out Corporate Storytime for all your ASX Investor Relations needs**
If you would like your company to be a part of Life Of Mine, get in touch with me via matt@lifeofminepodcast.com
***DISCLAIMER***
All Life Of Mine episodes are for information only and may contain forward looking statements that may not eventuate. Please do your own research before making any investment decision or alternatively seek advice from a registered financial professional.
****************
Buy all your Life Of Mine Merch here
Life Of Mine LINKS
Follow on LinkedIn
Follow on Twitter
Subscribe on Youtube
Follow on Facebook
Follow on Instagram
Follow on TikTok
Make sure you subscribe to Life Of Mine wherever you get your Podcasts (links below):