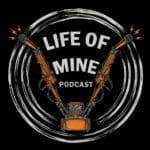 Welcome to the first episode of the new and improved Life Of Mine. We're heading back to the foundations here, getting in deep with the life stories of those prominent within the Mining industry.
Our first episode is with Paul Bennett, Managing Director of Medallion Metals. Benno has had a very diverse career in Mining, where he originally commenced as a Mining Engineer and went all the way through to Underground Manager (after coming from a Victorian Timber mill). He then undertook a 9 year pivot to work for RMB, where he was involved in Financing Mining company's and deals. Paul was involved in the initial $15m that financed Bill Beament's Paulsens acquisition for Norther Star Resources, which laid the foundations for what Northern Star is today.
Benno is an absolute gentleman of a bloke and has a great story to tell, which paved the path for his current tenure with Medallion Metals.
Buy all your Life Of Mine Merch here
Make sure you subscribe to Life Of Mine wherever you get your Podcasts (links below):