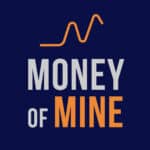 We give the ASX lithium stocks a break for the day and focus on a number of different gold announcements, plus something to look out for on the ASX.
Northern Star (NST.asx) announced a huge $1.5B investment to expand the KCGM (aka the Super Pit) processing plant, while Gold Road (GOR.asx) gave an update from Gruyere. De Grey (DEG.asx) revealed an exploration expansion in a deal with Canadian-listed Novo Resources plus we take a close look at what 'speeding ticket' means in the market in the context of AW1.asx, and a couple of things to keep your eye on.
All Money of Mine episodes are for informational purposes only and may contain forward-looking statements that may not eventuate. The co-hosts are not financial advisers and any views expressed are their opinion only. Please do your own research before making any investment decision or alternatively seek advice from a registered financial professional.
Join our exclusive Facebook Group for the Money Miners and request access to the Hooteroo chat group.
Follow Money of Mine on YouTube
Follow Money of Mine on Twitter
Follow Money of Mine on LinkedIn
Follow Money of Mine on Instagram
Chapters:
(0:00) Video Preview
(0:22) Introduction
(2:06) Northern Star – KCGM Expansion
(14:50) Gold Road Guidance Downgrade
(16:40) De Grey Exploration Investment
(20:58) AW1 with an ASX Speeding Ticket – A Case Study
(27:54) Upcoming Interview Revealed