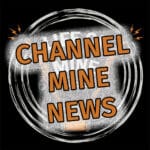 **NICKEL*** – What happened in 2022 and what can we expect for 2023 (and beyond)
Welcome to today's episode of Channel Mine News, the go-to "in your ears" Mining news source for all the multi-taskers out there.
In today's episode of Channel Mine News, Matty gives an overview of the Nickel thematic, namely where we've been and what can we expect.
You'll hear about:
2022 supply concerns from Russia-Ukraine war and the short squeeze breaking the Nickel price
Steve Norregaard from Widgie Nickel (WIN) provides some commentary on Nickel going forward
M&A activity with IGO and Western Areas along with BHP and OZL
Nickel Laterites vs Nickel Sulphides and how important Indonesia is
Who is producing all the Aussie Nickel?
Wyloo sniffing around a Mincor (MCR) takeover and IGO/Wyloo considering building a Nickel Sulphate plant, why is this bad for BHP?
Centaurus (CTM) progressing Jaguar in Brazil towards construction
Lunnon Metals (LM8) sniffing around Kambalda
Will the Aussie Nickel laterite projects ever get capital?
Thanks very much to Steve Norregard, MD of Widgie Nickel for coming on to provide some insight into both Nickel and what Widgie is up to.
If you would like your company to be a part of Channel Mine News, get in touch with me via matt@lifeofminepodcast.com
***DISCLAIMER***
All Channel Mine News episodes are for information only and may contain forward looking statements that may not eventuate. Please do your own research before making any investment decision or alternatively seek advice from a registered financial professional.
****************
Buy all your Life Of Mine Merch here
Life Of Mine LINKS
Follow on LinkedIn
Follow on Twitter
Subscribe on Youtube
Follow on Facebook
Follow on Instagram
Make sure you subscribe to Life Of Mine wherever you get your Podcasts (links below):