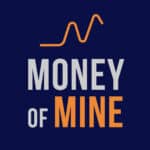 We've got a big episode in store for the Money Miners today, with the one and only Matty Michael back in the studio fresh from his East Coast adventure.
We kick things off with Musgrave (MGV.asx) advising shareholders to reject the Westgold (WGX.asx) takeover proposal, then staying on the theme of takeovers, we talk through what the hold-up is at Mincor (MCR.asx), with Wyloo looking to wrap things up pronto!
Calidus (CAI.asx) signed a framework agreement which gets a mention as well as Capricorn (CMM.asx) who closed out some hedges, fixing our upside on some potential upside.
Galena (G1A.asx), Global Lithium (GL1.asx), Encounter (ENR.asx), & Strictland (STK.asx) also get some time in the limelight with their respective announcements today.
We save our big chat for Perenti's (PRN.asx) bid to acquire fellow mining services business DDH1 (DDH.asx). A couple of months in and Money of Mine is already expanding to new (adjacent) sectors!
All Money of Mine episodes are for informational purposes only and may contain forward-looking statements that may not eventuate. The co-hosts are not financial advisers and any views expressed are their opinion only. Please do your own research before making any investment decision or alternatively seek advice from a registered financial professional.
Join our exclusive Facebook Group for the Money Miners and request access to the Hooteroo chat group.
Follow Money of Mine on YouTube
Follow Money of Mine on Twitter
Follow Money of Mine on LinkedIn
Follow Money of Mine on Instagram
Chapters:
(0:00) Preview
(0:46) Intro
(3:47) Musgrave REJECTs Westgold
(16:58) Wyloo looking to wrap up Mincor
(21:25) Calidus sign framework agreement
(25:16) Capricorn close out hedges
(30:11) Galena provide Abra update
(32:27) Global Lithium make Kairos investment
(33:23) Encounter the nearology play looking to excite
(35:22) Strictland sell Millrose to Northern Star
(38:12) Perenti make bid for DDH1
(57:32) Money of Mine group chat & newsletter!