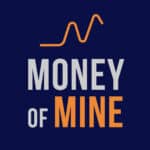 We're delighted to be able to provide the Money Miners with (as far as we know) the first full-length interview with Wyloo CEO Luca Giacovazzi and GM Strategy & BD Joel Turco.
This is the team behind the creative acquisitions of Noront Resources and Mincor Resources. Their deal creativity has extended to Hastings Technology Metals, Western Areas, Regis, and more.
Now the team is looking to translate their deal innovation into mining innovation as they become an integrated nickel producer with the completion of the acquisition of Mincor.
In this Part 1 we get the genesis behind Wyloo and what they are all about today. We go further into the commodities they're excited by and the tools and their disposal.
All Money of Mine episodes are for informational purposes only and may contain forward-looking statements that may not eventuate. The co-hosts are not financial advisers and any views expressed are their opinion only. Please do your own research before making any investment decision or alternatively seek advice from a registered financial professional.
Join our exclusive Facebook Group for the Money Miners and request access to the Hooteroo chat group.
Subscribe to our weekly newsletter HOOTEROO HERALD
Follow Money of Mine on YouTube
Follow Money of Mine on Twitter
Follow Money of Mine on LinkedIn
Follow Money of Mine on Instagram
Chapters:
(0:00) Preview
(0:48) Introduction
(3:19) Luca Giacovazzi and Joel Turco Introduce themselves
(5:51) Wyloo Metals Insight and their Mandate
(8:28) Did Wyloo Consider Lithium?
(14:40) Wyloo's Perspective on the Nickel Market
(31:43) Wyloo's WA Nickel Sulphide Plans
(40:33) Does Downstream in Australia make sense?
(51:55) Wyloo's thoughts on Rare Earths