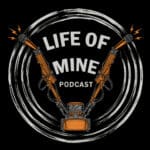 Principal Engineer of Entech Mining Shane McLeay joins Life Of Mine to give a review of what's been happening in the 2022 Australian Mining space. Entech are involved in numerous projects across a variety of commodities, along with the progress of exciting renewable and automation technology that is making its what into the Mining industry. We had a great chat about:
Shane's Non-Executive Director position for Liontown Resources and what makes Kathleen Valley such an exciting project.
Ins and outs of Lithium mining, is it different to other commodities?
Entech's role in the Bellevue Gold project and BGL's strive to become net zero.
Long term benefits of renewables for project costs
Is automation going to make its way Underground?
and plenty more
Thanks again to Entech for being a great Life Of Mine supporter in 2022 and we look forward to many more yarns with the team in 2023.
Give Entech a follow on LinkedIn and check out their website for more information about the services they provide for Mining Engineering, Geotechnical, Ventilation and Resource Geology.