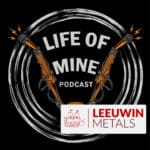 Today is the official IPO listing of Leeuwin Metals (ASX:LM1) and to give us the spiel about this exciting new Nickel and Lithium explorer we've got the Managing Director Chris Piggott, alongside Non-Executive Director Scotty Williamson. You may also know as the Managing Director at fellow Nickel explorer and project developer, Blackstone Minerals (ASX:BSX).
Chris has a very impressive CV and track record of being involved in some significant discoveries, namely the lodes that helped Bellevue Gold define + 3moz and also the Nova/Bollinger deposit (now operated by IGO).
Leeuwin's flagship asset is the William Lake Nickel project, located in the Manitoba province of Canada. This project has a decent opportunity for a large scale Nickel Sulphide project. There is already circa 90,000m of exploration drilling already in the ground, which is a replacement cost of circa $C355. The data from this shows Nickel intersections varying from 200m to +700m downhole, with high Nickel grades in addition to the presence of PGE's.
Chris has some decent skin in the game, being the top shareholder so he is heavily aligned with Leeuwin becoming a successful explorer. They're trading on the ASX now, check out LM1 and enjoy my chat with Chris Piggott and Scotty Williamson.
**Check out the Leeuwin Metals website for further information**
If you would like your company to be a part of Life Of Mine, get in touch with me via matt@lifeofminepodcast.com
***DISCLAIMER***
All Life Of Mine episodes are for information only and may contain forward looking statements that may not eventuate. Please do your own research before making any investment decision or alternatively seek advice from a registered financial professional.
****************
Buy all your Life Of Mine Merch here
Life Of Mine LINKS
Follow on LinkedIn
Follow on Twitter
Subscribe on Youtube
Follow on Facebook
Follow on Instagram
Follow on TikTok
Make sure you subscribe to Life Of Mine wherever you get your Podcasts (links below):