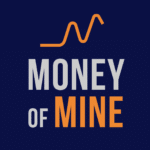 Today we're sharing with the Money Miners our discussion with Kingsley Jones.
Kingsley runs the investment firm he founded, Jevons Global, on the back of years of experience at firms such as Credit Suisse, AllianceBernstein, and Macquarie group. With this background, his early career may surprise some. He is a PhD in Theoretical Physics with added experience working in research, which shines through in his scientific-based outlook on the market and commodities.
We had a great discussion ranging from topics such as the implications of the Inflation Reduction Act & downstream commodity processing to the various commodities he looks at and their outlooks, including graphite, rare earths, lithium, and more.
Be sure to catch Kingsley's Quick Fire Round, with his under or overrated takes on topics from DLE to Niobium to Lynas.
Enjoy the interview & feel free to get in touch with any feedback!
All Money of Mine episodes are for informational purposes only and may contain forward-looking statements that may not eventuate. The co-hosts are not financial advisers and any views expressed are their opinion only. Please do your own research before making any investment decision or alternatively seek advice from a registered financial professional.
Thank you to our Podcast Partners:
Terra Capital – Specialist Investment manager in the natural resources sector
Anytime Exploration Services – Exploration workers, equipment, core cutting/storage plus much more
Join our exclusive Facebook Group for the Money Miners and request access to the Hooteroo chat group.
Subscribe to our weekly newsletter HOOTEROO HERALD
Follow Money of Mine on YouTube
Follow Money of Mine on Twitter
Follow Money of Mine on LinkedIn
Follow Money of Mine on Instagram
Chapters:
(0:00) Preview
(0:51) Introduction
(2:35) Welcoming Kingsley Jones onto Money of Mine
(3:22) What does Jevons Global Do?
(6:16) Transitioning from Theoretical Physicist to Investor
(8:35) Why Kingsley Loves the Commodity Market
(9:55) What's the Macro Situation
(19:07) Fighting Disinformation
(23:07) Is Lynas' History a Case Study for the Future From IRA?
(28:29) Potential Bifurcation from the IRA and Winners
(33:13) Lithium and the IRA
(38:09) Going Downstream in Australia
(41:10) What's the actual Price Floor in Iron Ore
(49:33) How to Understand the Graphite Market
(54:38) Avoiding Group Think
(58:32) Quick Fire – Underrated or Overrated?!