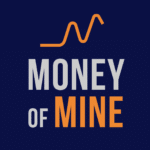 Last day of quarterly season! We kick things off with the big one, Patriot Battery Metals (PMT.asx) announcing their maiden resource estimate. 109.2Mt @ 1.4 % and plenty to talk about.
Next up is a brief chat about quiet achievers Emerald Resources (EMR.asx) who are looking to wrap up Bullseye Mining. A bit of global news followed, with iron ore giant Vale (VALE.nyse) selling off 13% of their base metals unit to a fascinating pair of investors.
Silver Lake (SLR.asx) announced a guidance number that the market didn't take a liking to, thanks to Sugar Zone being turned off (at least that was our translation). To tie things off we go into the capital raise and operational update at mineral sands play Strandline (STA.asx), who have hit a snag while ramping up Coburn.
All Money of Mine episodes are for informational purposes only and may contain forward-looking statements that may not eventuate. The co-hosts are not financial advisers and any views expressed are their opinion only. Please do your own research before making any investment decision or alternatively seek advice from a registered financial professional.
Thank you to our Podcast Partners:
Terra Capital – Specialist Investment manager in the natural resources sector
Anytime Exploration Services – Exploration workers, equipment, core cutting/storage plus much more
Join our exclusive Facebook Group for the Money Miners and request access to the Hooteroo chat group.
Subscribe to our weekly newsletter HOOTEROO HERALD
Follow Money of Mine on YouTube
Follow Money of Mine on Twitter
Follow Money of Mine on LinkedIn
Follow Money of Mine on Instagram
(0:00) Preview
(0:59) Intro
(4:26) Patriot maiden resource is released!
(30:09) Why are Emerald buying up Bullseye?
(32:21) What Vale selling stake to International Investors could mean
(34:51) Why are Silver Lake down 20% today?!
(40:00) What's the story at Strandline Resources?