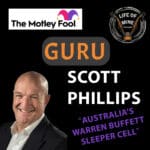 Scott Phillips is the Chief Investment Officer for THE MOTLEY FOOL AUSTRALIA and also host of the #1 Investing Podcast in Australia, Motley Fool Money.
Scott has kindly come on to help put everyone's mind at ease, reinforcing that the financial world is NOT ENDING. With the recent Share Market volatility and Interest Rate rises, I thought it would be great to unpack why this is happening and how to look forward. It's not all doom and gloom and it is 100% going to happen again. Please bare in mind, the share market only goes 2 ways over the LONG term…..RIGHT and UP.
If you are:
New to investing
Wanting to start investing
Already investing and want to go up a level
Make sure you head to www.fool.com.au and check out what Scott and The Motley Fool have offer. There are some great packages that give you stock recommendations, coupled a gutload of investment educational resources. Great value for money, with the Share Advisor package beating the average market returns (this ledger is available so it's no lie).
Make sure you also subscribe to the Motley Fool Money Podcast, where each week Scott and his side-kick "Straw-man" unpack everything that is investing.