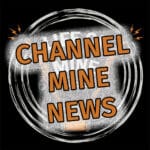 Tim Weir and Andy Clayton from Precision Funds Management chime in on the Half Yearly reporting season. Plenty of insight from the West Perth Mining gurus.
If you would like your company to be a part of Life Of Mine, get in touch with me via matt@lifeofminepodcast.com
***DISCLAIMER***
All Life Of Mine episodes are for information only and may contain forward looking statements that may not eventuate. Please do your own research before making any investment decision or alternatively seek advice from a registered financial professional.
****************
Buy all your Life Of Mine Merch here
Life Of Mine LINKS
Follow on LinkedIn
Follow on Twitter
Subscribe on Youtube
Follow on Facebook
Follow on Instagram
Follow on TikTok
Make sure you subscribe to Life Of Mine wherever you get your Podcasts (links below):