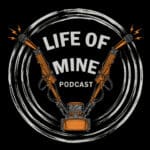 First yarn of the Life Of Mine minis. A few things that everyone underground can do to help get more cuts. Everyone from Jumbo to the Truckies can do their part to get more metres. Feel free to get the comment train going with all your tips and tricks. 
Send through your Life Of Mine mini episode requests, and I'll talk heaps of shit and make them happen.
If you're a Life Of Mine fan, head over to www.lifeofminepodcast.com/shop and load up on some merch via AFTERPAY. Get kitted out in a hoodie and pay for the bastard later.