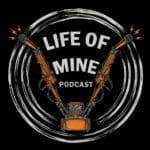 *** Sign up for online JUMBO TRAINING at https://lifeofminepodcast.com/members-podcasts/ ***
Welcome to another ENTECH LEGENDS episode, proudly supported by our great friends at Entech Mining. Hit them up for anything in the fields of Mining Engineering, Resource Geology, Geotechnical and Ventilation (best in the game). Get in touch with them at https://entechmining.com.au/ and also give them a follow on Linkedin at https://www.linkedin.com/company/entech-pty-ltd/.
Now before commencing Part 2 of 3 with Tony Sime, make sure you've listened to Part 1 first. We went into Simesy's early days on the airleg throughout WA in the 70s and 80s.
In Part 2 we go into Simesy's early Management days with Eltin, who were one of the first big Underground Contractors in WA. Simesy worked and managed many of the mines that are still around today, namely Bellevue, Leinster and North Parkes. There is a great section in here about the early development of North Parkes where it was run as a "Quality Assurance" mine.
Stay tuned for Part 3 coming out next week, where we finish off with an insight into Simesy's Senior Management time which provides some great learnings for all the aspiring Engineers and Managers out there.
Buy all your Life Of Mine Merch here
Make sure you subscribe to Life Of Mine wherever you get your Podcasts (links below):