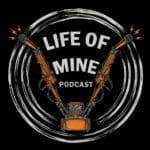 *** Sign up for online JUMBO TRAINING at https://lifeofminepodcast.com/members-podcasts/ ***
Welcome to another ENTECH LEGENDS episode, proudly supported by our great friends at Entech Mining. Hit them up for anything in the fields of Mining Engineering, Resource Geology, Geotechnical and Ventilation (best in the game). Get in touch with them at https://entechmining.com.au/ and also give them a follow on Linkedin at https://www.linkedin.com/company/entech-pty-ltd/.
Now the LEGENDS series has always been a popular one. I've been working on this bloke for 4 years and whether its out of guilt or curiosity, I've finally got him. My old boss, one of my biggest mentors and well-known figure in WA Mining, Mr Tony Sime.
Now as per usual, we yarned for about 2.5 hrs so I've split it up into 3 episodes. In this part 1, we go through how Simesy got into Mining and him getting on the airleg at a very young age. In these early years, he worked in and around Kambalda, Leinster, Laverton and Norseman (I probably missed some there). We also go into his victories in the rock drill comps, Simesy claims he invented the technique that Bub Butler uses when carrying the airleg back (Bub reckons he invented it so the jury is out).