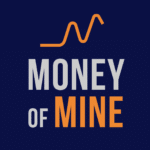 JD and Emanuel Datt, founder of Datt Capital, sat down for a broad-ranging 1 on 1 discussion.
We went in-depth on Emanuel's investment style, what the current macro environment is looking like, and what his thoughts are on various commodities as well as digging into a few stock-specific thoughts. In addition, we couldn't resist a rapid-fire under-rated vs over-rated round to finish things off.
All Money of Mine episodes are for informational purposes only and may contain forward-looking statements that may not eventuate. The co-hosts are not financial advisers and any views expressed are their opinion only. Please do your own research before making any investment decision or alternatively seek advice from a registered financial professional.
Thank you to our Podcast Partners:
Terra Capital – Specialist Investment manager in the natural resources sector
Anytime Exploration Services – Exploration workers, equipment, core cutting/storage plus much more
JP Search – Recruitment specialists for the financial world
K-Drill – Safe, reliable, and productive surface RC drilling
Topdrill – Using digital solutions to provide safe, productive, and cost-effective drilling services
Join our exclusive Facebook Group for the Money Miners and request access to the Hooteroo chat group.
Subscribe to our weekly newsletter HOOTEROO HERALD
Follow Money of Mine on YouTube
Follow Money of Mine on Twitter
Follow Money of Mine on LinkedIn
Follow Money of Mine on Instagram
Chapters:
(0:00) Preview
(0:39) Intro to the interview
(4:57) Interview with Emanuel
(6:23) Being a Unique & Uncorrelated Fund Manager
(12:15) Extracting Value from Twitter
(13:40) Getting up the Curve Yourself
(16:08) Instinct vs. Intuition
(17:14) Not Engaging Management
(20:41) Running an Absolute Return Fund
(21:45) Being an Activist
(24:05) The Macro
(25:30) Large Cap vs Small Cap Value Divergence
(27:40) Getting compensated for Illiquidity
(30:45) Tech vs Resources
(34:00) Risks of Holding Coal
(36:35) The Rare Earths Outlook
(38:52) What to look out for as a WA1 Holder
(43:00) Seeing Value in GL1
(46:06) Dreadnought's News on the Horizon
(47:18) Adriatic inching toward Production
(53:56) Over-rated vs. Under-rated!