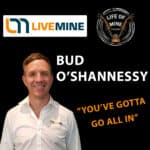 Bud O'Shannessy is the founder of LIVEMINE Solutions.
Livemine is the leading data management system in the Mining industry, where paper has been replaced with sophisticated software via tablets. Bud and his co-founder Brendan "BJ" Parker have transformed the way that the Mining Industry now collects data.
In this interview, you'll hear about Bud's journey towards the Livemine idea, his career as a Jumbo Operator and how he came up with the idea.
For more info on Livemine, head to https://www.livemine.com.au/ and follow them on all the social media platforms.
Youtube video links:
************************************************
Buy all your Life Of Mine Merch here
Life Of Mine LINKS
Follow on LinkedIn
Follow on Twitter
Subscribe on Youtube
Follow on Facebook
Follow on Instagram
Make sure you subscribe to Life Of Mine wherever you get your Podcasts (links below):