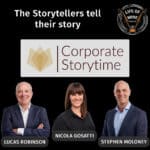 Corporate Storytime are an Investment Relations business based in Perth, WA.
Co-founders Lucas Robinson and Nicola Gosatti, along with Executive Manager Stephen Moloney, offer the comprehensive capabilities and deep industry knowledge necessary to help listed Australian companies communicate their unique stories to the investing community.
In our first episode, you'll hear about what Corporate Storytime have to offer publically listed companies along with their points of difference in the industry. With a very strong background within the Finance industry, it is clear why the business has shown such rapid growth in only 2 years of operation. 
For more info, head to www.corporatestorytime.com
Also, give them a follow on all the social links below:
Linkedin – https://www.linkedin.com/company/corporate-storytime/
Twitter – https://twitter.com/CorpStorytime?s=20&t=P-RPuoD3oSR2uMVDCyU46A
Facebook – https://www.facebook.com/CorporateStorytime