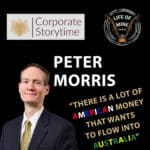 Peter Morris is the newest edition to the Investor Relations team at Corporate Storytime (based in Perth). Peter was born in Connecticut but moved to Texas when he was young. He grew up right on top of the Barnett Shale, which was one of the first Shale Gas areas in the United States. This was an omen for a future in Commodities and Trading.
Peter has worked as both an Analyst and Portfolio manager across the United States and Hong Kong. He has a wealth of experience in the Energy sector and is now transferring his global network and expertise into the Aussie Mining industry.
If you would like to get in touch with Pete, email him via peter@corporatestorytime.com or alternatively head to the Corporate Storytime website.
Give Corporate Storytime a follow on LinkedIn and Twitter
While you're at it, give Life Of Mine a follow on LinkedIn and Twitter
*****************************************************************
If you would like your company to be a part of Channel Mine News or have your company interviewed, get in touch with me via matt@lifeofminepodcast.com
***DISCLAIMER***
All Life Of Mine episodes are for information only and may contain forward looking statements that may not eventuate. Please do your own research before making any investment decision or alternatively seek advice from a registered financial professional.
****************
Buy all your Life Of Mine Merch here
Life Of Mine LINKS
Follow on LinkedIn
Follow on Twitter
Subscribe on Youtube
Follow on Facebook
Follow on Instagram
Make sure you subscribe to Life Of Mine wherever you get your Podcasts (links below):