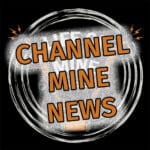 Today's episode of Channel Mine News is with Lucas Robinson from Corporate Storytime. Lucas and Matt weigh in on the daily Mining goss and discuss what's been happening with some CST clients.
You'll hear about:
Today's interest rate rise
Bellevue Gold (BGL) capital raise
Great Boulder Resources (GBR) tenement acquisition
Turaco Gold (TCG) geophysics targets Odienne
Elmore Limited (ELE) re-financing of vendor debt for Peko Magnetite operation
If you would like your company to be a part of Channel Mine News, get in touch with me via matt@lifeofminepodcast.com
***DISCLAIMER***
All Channel Mine News episodes are for information only and may contain forward looking statements that may not eventuate. Please do your own research before making any investment decision or alternatively seek advice from a registered financial professional.
****************
Buy all your Life Of Mine Merch here
Life Of Mine LINKS
Follow on LinkedIn
Follow on Twitter
Subscribe on Youtube
Follow on Facebook
Follow on Instagram
Make sure you subscribe to Life Of Mine wherever you get your Podcasts (links below):