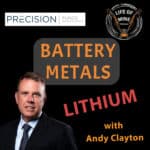 Andy Clayton from Precision Funds Management joins Life Of Mine for the Battery Metals series. These episodes will educate everyone on all there is to know about Battery Metals, namely what's in an EV battery, who's Mining all the minerals and what are the upcoming projects. There will be 4 episodes:
– What makes up an EV Battery (overview)
– Lithium
– Nickel 
– Copper
In this yarn we talk everything LITHIUM. The Uber drivers are saying "its going up". In this very bloody informative chat we cover:
Lithium chemical makeup
Spodumene percentages vs grade……how it calculates
Hard Rock Lithium vs Lithium brine deposits
The soaring Lithium price
Pilbara Minerals unique auctioning system
Liontown's upcoming underground Lithium project
Who is mining the current and upcoming Lithium projects in both Australia and the world.
Please share this series around your network, as it will be a great education tool for all those keen to learn about the EV revolution.